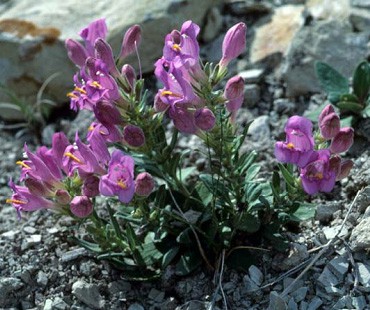 Aug
6
Penstemon Conservation Agreement Finalized
A multi-agency conservation agreement to protect two species of penstemon found in the Uintah Basin was signed July 22. The agreement is a unique case of private, county, state, and federal cooperation to protect rare plant species.
Signatories to the conservation agreement are the U.S. Fish and Wildlife Service (USFWS) Utah Public Lands Policy Coordination Office (PLPCO), U.S. Bureau of Land Management, School and Institutional Trust Lands Administration (SITLA), Utah Division of Wildlife Resources, Uintah County, and Rio Blanco County, Colorado.
Protections given to the two plant species under the conservation agreement should preclude the need for the USFWS to list Graham's and White River beardtongue penstemon as 'threatened' under the federal Endangered Species Act. Both species are endemic to the Uintah Basin.
"Cooperative, common sense agreements, like this one, benefit all," said SITLA Director Kevin S. Carter. "Collaboration is key to protecting resources, business opportunities, and healthy local economies."
Under the proposed agreement, certain areas of plant habitat would be protected from development for the 15-year term of the agreement, while other habitat areas could be released for development. It specifies 44,000 acres of conservation areas, including federal, state trust and private lands. Inside the conservation areas, ground disturbance would be limited to 5 percent of the land set aside for Graham's beardtongue and 2.5 percent for the rarer White River beardtongue. No disturbance would occur within 300 feet of a plant.
The agreement also creates a conservation team to supervise additional scientific efforts to study the plants and identify means for enhancing and restoring habitat.
SITLA, PLPCO and Uintah County all provided funding for scientific consultants to develop the proposed agreement in conjunction with USFWS.
---