Diamond Rim (PS 8589)
Auction Date:
October 19 2016
Minimum Bid:
Minimum Acceptable Price is $830,000


SOLD FOR $850,000



Acres:
640.00 Acres, More or Less
General Information

CLOSING COSTS:

These costs cannot be financed and are in addition to the 10% down payment.  All closing costs are due from the prevailing bidder at the auction:

| | |
| --- | --- |
| Appraisal Costs: | $1,200.00 |
| Cultural Resources Survey: | $17,000.00 |
| Advertising Costs: | $500.00 |
| Processing Costs: | $500.00 |
| Application Fee: | $250.00 |
| TOTAL CLOSING COSTS: | $19,450.00 |

Legal Description:

Township 2 South, Range 24 East, SLB&M

Section 32:  All

Location:

This parcel is located on Diamond Mountain approximately 20 miles northeast of Vernal, Utah.

Access:

The property has good access via Diamond Rim Road, which is a Uintah County Class B road.  There are also several unimproved county roads which provide access throughout the property.

Acreage:

640.00 acres, more or less

Water:

Two water rights will be conveyed with the property, WR 45-1346 and WR 45-1623.  These are rights for stockwatering directly on a reservoir and on a stream respectively.

Surface waters in the area are considered to be fully appropriated, except for isolated springs.  There are some limited ground water resources available for appropriation.  Permanent applications for isolated springs and underground water are generally limited to sufficient acre-foot amounts to serve the domestic purposes of one family, the irrigation of one acre, and a reasonable amount of livestock.  Interested parties should contact the Utah Division of Water Rights for more information.

Utilities:

No utilities are present on the property and none are known to be located nearby.

Zoning:

The property is zoned MG1 (Mining & Grazing) by Uintah County.  Single-family dwellings require a minimum of 5 acres per dwelling.  Permitted uses include agriculture, single-family dwellings, seasonal home/cabins, oil & gas drilling, warehouse storage, etc.  Interested parties should contact Uintah County for more information regarding permitted uses of the property.

Other:

This property is located directly on the southern rim of Diamond Mountain and offers incredible views into Dinosaur National Monument and the Ashley Valley.  The property offers premium big game hunting opportunities and is located within the South Slope/Diamond Mountain limited-entry hunting units for both buck deer and bull elk.

Elevation ranges from 7,780 feet on the rim near the center of the property to 7,200 feet in the southeast corner.  Topography is relatively flat to gently rolling from the rim northward with steeper slopes descending from the rim to the south.  Vegetation consists of primarily of native grasses and sagebrush north of the rim and pinyon juniper trees from the rim southward.

This property is surrounded by both privately owned lands and federal (BLM) lands.

Financing:

Financing will be offered for this parcel.  A down payment of 10% and closing costs will be due at the auction.  The remaining balance can be financed a variable rate of prime plus 2.5% for up to a 20 year term.
Encumbrances

Mineral Leases:

None

Surface Leases:

Easement No. 1392, issued to Uintah County for a perpetual term for Class B roads
Easement No. 1730, issued to Uintah County for a perpetual term for Class D roads
Grazing Permit No. 23075-14, issued to Chivers Ranch, Inc. (upon completion of sale, this land will be deleted from this permit)
Disclosure and Contact

Disclosures:

Please see the auction page for general disclosures and auction procedure information which pertains to all properties being offered at the auction.
The property will be conveyed subject to all valid existing rights.
A cultural resource survey was conducted on the subject property.  The property will not be sold subject to any site reservations.
All minerals, including the sand and gravel are reserved to Trust Lands Administration.

The Utah Geological survey provided the following comment:  "Geologic mapping (Sprinkel, 2006, Interim geologic map of the Dutch John 30′ x 60′ quadrangle, Daggett and Uintah Counties, Utah, Moffat County, Colorado, and Sweetwater County, Wyoming: Utah Geological Survey OFR 491DM) shows the southeast corner of section 32 as part of a large landslide complex.  Other potential geologic hazards in the area that could affect the property include flash flooding/debris flow, shallow bedrock and/or groundwater, problem soils including shrink/swell and/or collapsible, and moderate to high indoor radon potential.  Prospective buyers should be aware of the potential hazards so they can be addressed in a manner appropriate to the intended use of the property.  Geologic hazards are best addressed early in the land-use planning process prior to development and construction.  General geologic hazard information is available at the UGS offices and online at

http://geology.utah.gov/utahgeo/hazards/index.htm

."

Other disclosures, if any, will be announced at the auction.

Contact for Additional Information:

Chris Fausett
Resource Specialist
chrisfausett@utah.gov
(801) 538-5139

Diane Lund
Sales Coordinator
dlund@utah.gov
(877) 526-3725 or (801) 538-5163 
more info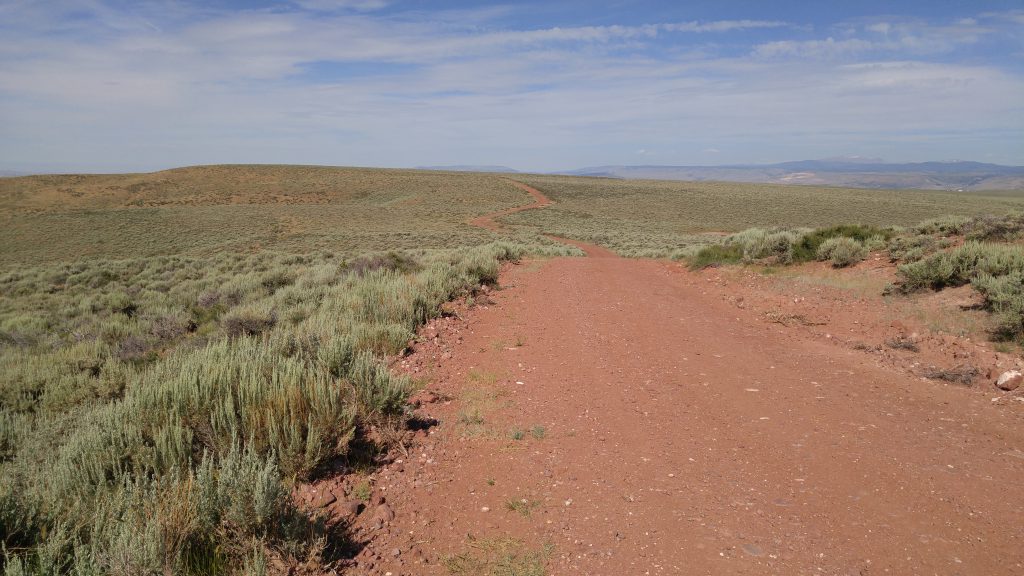 The Diamond Rim Road bisects the property running east and west.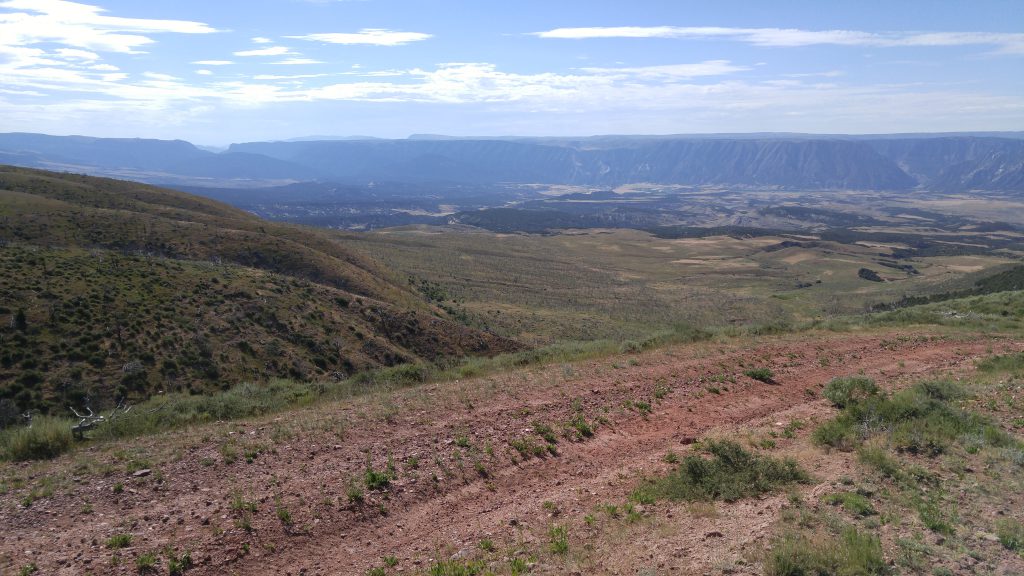 View into the Island Park area of Dinosaur National Monument from the property.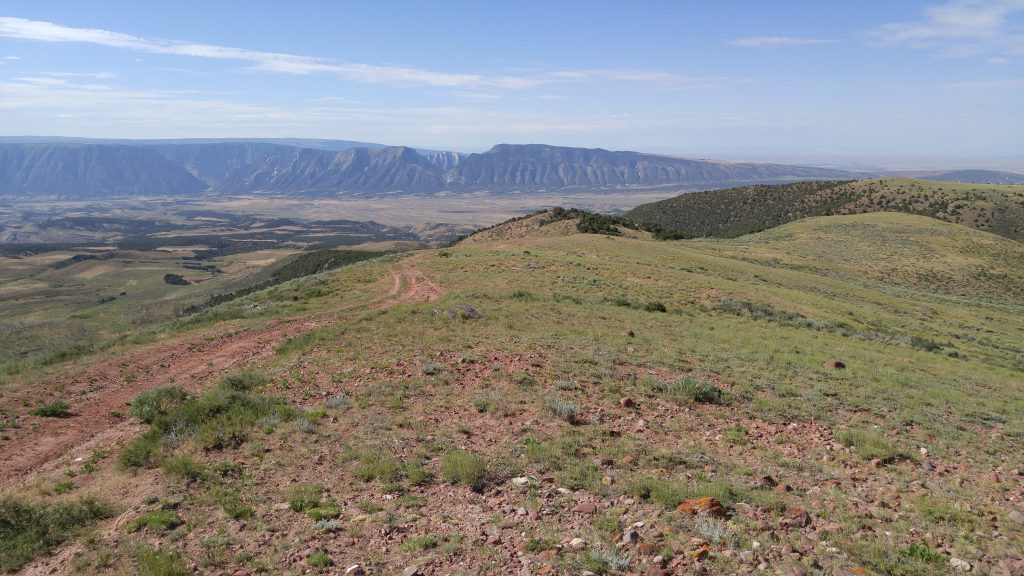 Southern portion of the property with impressive vistas to the south.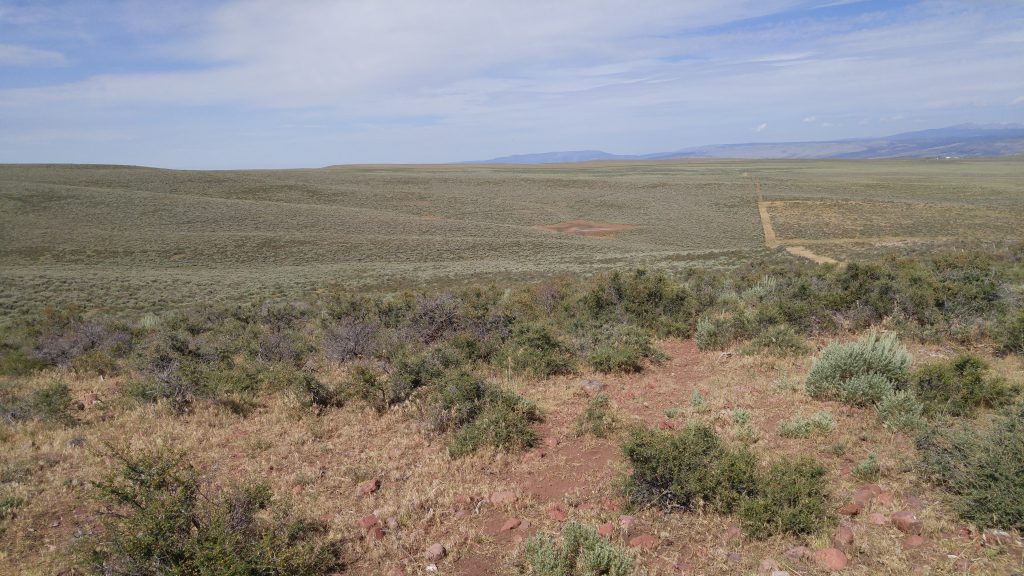 Gently rolling terrain typical of the northern portion of the property.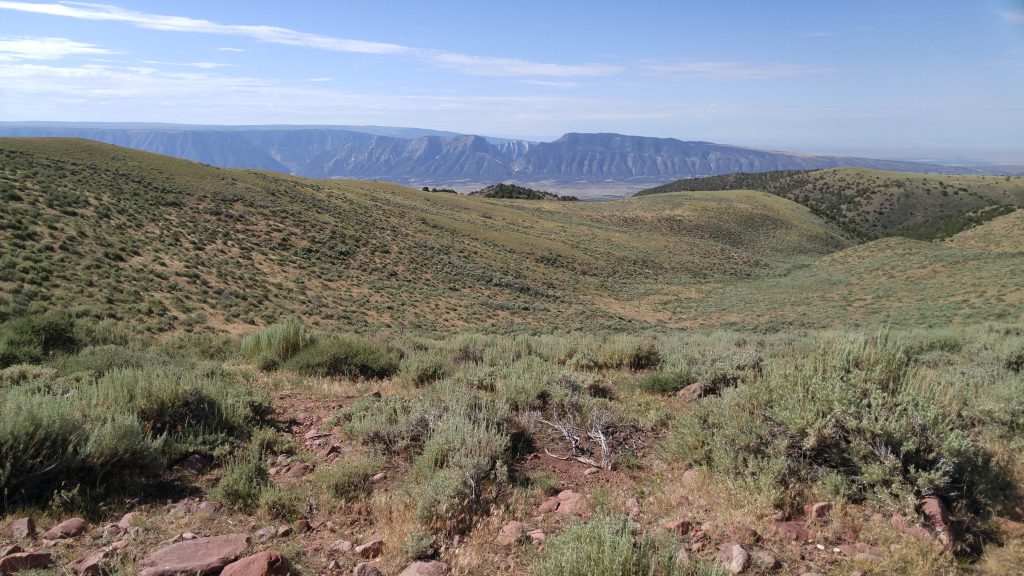 View from the property southwards into Dinosaur National Monument.
The property offers premium big game hunting opportunities.  This herd of buck deer were photographed near the property's western boundary.