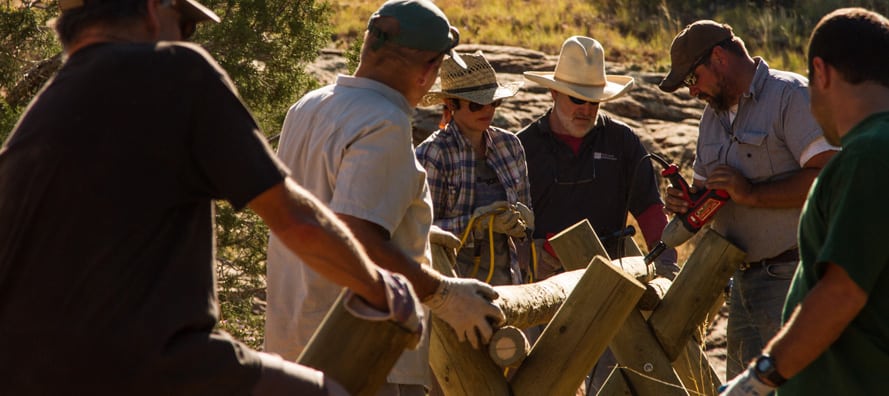 Sep
21
SITLA Cave Towers Stewardship Project
The School and Institutional Trust Lands Administration (SITLA), along with 24 volunteers with the Friends of Cedar Mesa, held a weekend stewardship project aimed at protecting spectacular Cave Towers, an Ancestral Puebloan site at the head of Mule Canyon on Cedar Mesa in San Juan County.
SITLA and Friends of Cedar Mesa volunteers installed 500 feet of buck-and-rail fencing to delineate parking and camping areas. They also installed two informational and interpretive kiosks, installed three metal fire rings to support responsible camping, and cleared 200 pounds of charcoal, broken glass, and trash within the archaeological site boundaries.
"While we want the public to experience this incredible ancient site, we also want them to understand its value and be part of protecting this site for future generations," said SITLA Lead Archaeologist Kenny Wintch.
The archaeological site was built and used by the Ancestral Puebloan people, likely between A.D. 1000 – 1300. The dramatic site, which resides on school trust lands managed by SITLA, includes towers, kivas, and other structures.
"With this project, SITLA shows true commitment to proactive stewardship of one of the most visited sites in the Cedar Mesa area," stated Josh Ewing, executive director of Friends of Cedar Mesa. "Friends of Cedar Mesa looks forward to a continuing partnership with SITLA to preserve this remarkable archaeological site for Utah's school children and all Americans to be inspired by in the future."
The site and surrounding areas have seen a significant increase in visitation. SITLA is implementing a plan allowing continued access, while identifying camping areas and providing information to educate visitors about the importance of protecting this site.
Cave Towers is located on a section of land held in trust for Utah's public school system, one of many such sections granted to the state of Utah upon statehood in January 1896. School trust lands are managed by SITLA to provide financial support for public education in Utah.
Stewardship of trust lands for long-term revenue production is a significant component of the SITLA management plan. Since 1994, SITLA has generated in excess of $1.5 billion and been involved in numerous transactions and projects that have protected more than 560,000 acres of Utah land, an area equivalent to the combined acreage of Arches, Bryce Canyon, Capitol Reef, and Zion national parks.
---