Learn About Utah Oil and Gas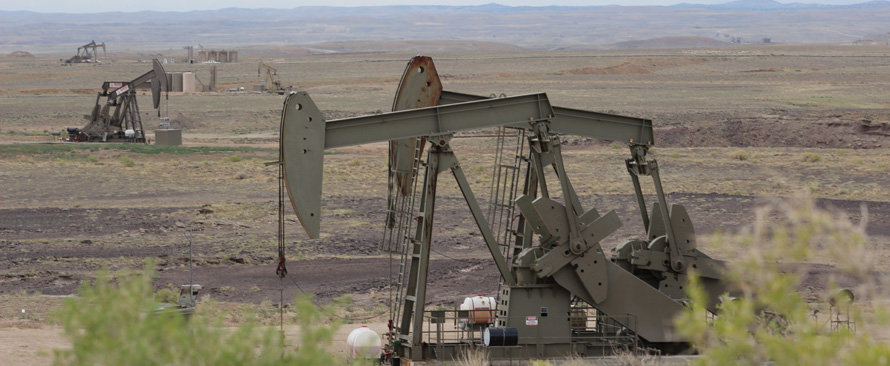 The Oil and Gas Program is one of four business groups within SITLA that works to generate revenue from Utah's trust lands. The Oil and Gas Program leases lands to private business for production of oil and natural gas. Revenue from oil and gas leases and royalties are deposited into the permanent funds of trust land beneficiaries, and include: state colleges, universities, hospitals, and public schools.
All projects are reviewed, permitted, and monitored by the appropriate federal and state regulatory agencies, including the Utah Department of Environmental Quality and Utah Division of Oil, Gas and Mining
Powering Utah
Energy is a $5.3 billion industry in Utah, generating $543 million in state and local revenues, including $98.5 million directly for education through SITLA in 2014. Of the $138.9 million generated by SITLA last year, over 67% or $93.4 million was generated through oil and gas leases, rents, and royalties.
For example, ConocoPhillips operations within the Drunkards Wash Unit of the West Price Ferron Block have propelled oil and gas development into a position of providing stable, long term revenues to the Permanent School Fund and other beneficiaries. Of the $700 million in gross revenues derived from oil and gas since 1994, $140 million originated from this unit.
According to the Utah Office of Energy, over 98% of the energy produced in Utah is derived from three conventional fossil fuels: crude oil, natural gas, and coal.
Utah's five refineries process crude oil primarily from Utah, Colorado, Wyoming, and Canada. The UNEV pipeline opened in 2012 and is the first to connect Utah's refineries to Las Vegas, Nevada.
Natural Gas
The natural gas industry is thriving in Utah. Increased activity in the Uinta Basin has boosted production to record highs. Natural gas in Utah is produced through a variety of means, including conventional and unconventional wells, and coal bed methane. Utah produces about twice as much natural gas as it consumes and exports a large amount of natural gas to surrounding states. Most of the natural gas consumed in Utah is used by residential, commercial, industrial, and electric utilities.
In 2012, Utah ranked 10th in U.S. natural gas production. Natural gas makes up approximately 44% of Utah's total produced energy resources, and accounts for 28% of the energy consumed. There are estimated to be almost 10,000 direct jobs in Utah's oil and gas industries, including extraction, well operations, distribution, transportation, refining, construction and manufacturing (this figure does not include jobs in other industries that service the oil and gas industry).
Source: Utah Office of Energy
Crude Oil
Utah has long been a major producer of oil and it is the 11th largest producer of oil in the United States. The first production of oil was in September 1948 from the Ashley Valley #1 well operated by Equity Oil Co. in Uintah County, followed in 1955 with the discovery of the Bluebell field in Duchesne County, followed quickly by discovery of the Greater Aneth Field in 1956. As of 2011, Utah was estimated to have the 8th largest proven reserves among states.
Utah has five refineries, with over 150,000 barrels per day of refining capacity for gasoline, diesel, jet fuel and related products. While Utah is an overall net exporter of energy, it imports approximately 72% of the crude oil processed here. Imports come principally from Canada, along with Wyoming and Colorado. In 2011, crude oil made up approximately 14% of Utah's total produced energy resources. Crude oil also accounts for 32% of the energy consumed by Utahns.
Source: Utah Office of Energy
Additional Resources