May
23
Early Trust Lands, Utah Land Management
​The Utah School and Institutional Trust Lands Administration (SITLA) believes that The Wilderness Society's (TWS) recent report on historic state land sales in Utah is factually inaccurate, misleading, and politically motivated.
The TWS report attributes reductions in Utah's school trust land base to land sales for development and private recreational use. In fact, since SITLA's inception in 1994, the largest type of land divestiture of state school trust lands has been conservation land exchanges with the federal government, not sales.
Since its creation in 1994, SITLA has auctioned an estimated 59,686 acres from its portfolio, an average of 2,600 acres per year. In the last 10 years, the annual auction acreage has been approximately 1,945 acres per year.
During its history, SITLA has also sold or developed approximately 20,000 acres of urban and suburban lands in Washington, Iron, Utah, Summit, Grand, Kane and other counties through its real estate development group. Miscellaneous land sales bring SITLA's historic land sales to slightly over 100,000 acres.
In contrast, during the same period, SITLA conveyed over 256,000 net acres into conservation, primarily through land exchanges with the federal government, but also with the Utah Division of Wildlife Resources, and private conservation entities such as The Nature Conservancy. The Wilderness Society report falsely claims that these conservation lands were sold for development or private use.
For those lands that were sold, SITLA believes that auctioning lands that do not have significant income potential, and depositing the funds into the Permanent School Fund for investment, is a sound management strategy. This has been done prudently – the average annual auction of 2,600 acres represents 0.077 percent of the school trust's surface lands, while still generating substantial income for investment.
The Wilderness Society also seems to attack historic land sales that occurred early in Utah's history. The great majority of the 4.1 million acres TWS refers to in its report were lands sold during Utah's first 35 years of statehood, from 1896 until around 1930.
This is illustrated below. Note the 1896 map beneath a more modern map of Utah (left) compared with a current land management map.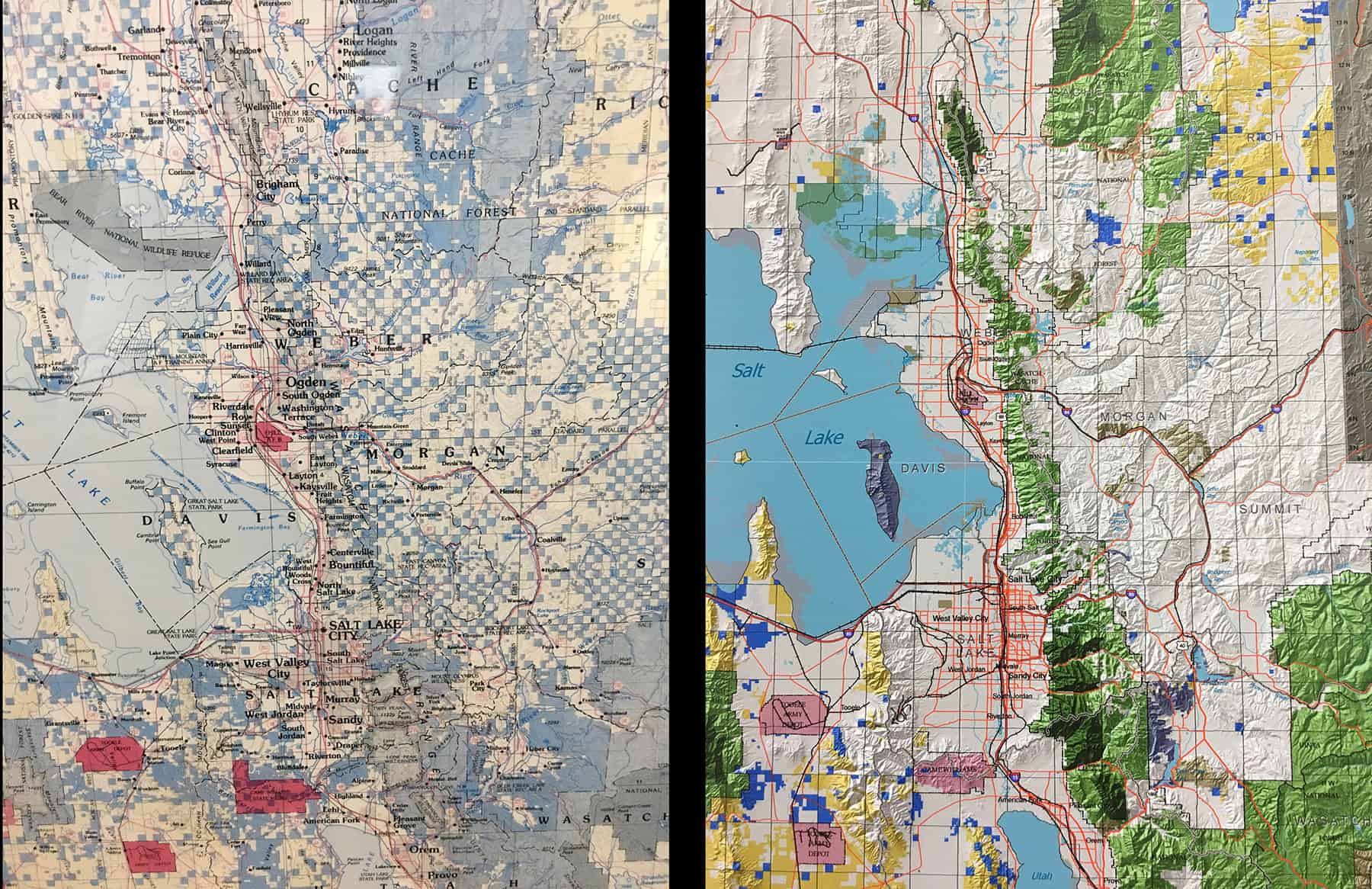 All of the blue scattered squares or sections across the Wasatch Front show trust lands granted by the federal government to the new state of Utah in 1896. The several million acres of trust lands sold into private ownership from 1896 to 1930 are where many Utahns live today, including large parts of communities like South Jordan, Kearns, Herriman, Eagle Mountain, Cedar City and St. George. Historic trust lands sales also became the base of much of the irrigated agriculture existing in central Utah.
The report also illogically attempts to compare SITLA's mission and constitutional mandate with state control of public lands. SITLA has nothing to do with public lands; rather it manages non-public trust lands on behalf of public schools, state hospitals, colleges, and universities.
If the state were to take over public lands, SITLA would not be involved. Instead, the Utah legislature has created a Division of Land Management within the Department of Natural Resources, which would have an entirely different mission and mandate than SITLA.
Also in the report, the Wilderness Society included a quote attributed to Leslie Castle, who is not and has never served as a SITLA board member.
Since 1994, SITLA has contributed more than $1.4 billion to the permanent funds for public schools, state hospitals, colleges, and universities, which total $2.2 billion. The Permanent School Fund has provided more than $310 million in grants to Utah K-12 schools since 2005.
---